Lymphatic Therapy Services in the Media:
Linda Anne's talk on post surgical care – April 2018 at Fat Disorder Conference

Linda Anne's talk on your gut and health at Fat Disorder Conference 2017

Linda Anne's talk on Comparing Nutrition Plans  – Fat Disorder Conference

The Weight Gain-Lymph Connection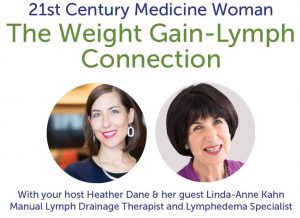 Most people think weight gain is caused by too many calories consumed vs. burned off. Today, new science shows this couldn't be further from the truth. Today, we reveal the impact your lymphatic and circulatory system has on your weight, along with new findings on fat disorders that debunk the calorie theory. Learn how reducing inflammation, supporting lymph flow, and eating key nutrients support your body in reducing weight naturally. Plus, if you have painful fat, lipomas, or connective tissue disorders, find out little-known solutions to resolve them and feel better. Click here to listen!
Conferences where Linda Anne Kahn has been a featured speaker: